Coronado is famous for its breathtaking sunsets, ranging from dreamy pastel washes to intense golden glories. Here we look at 6 of the most scenic spots to enjoy the artistry of our Californian skies.
1. Ocean Boulevard
The most popular place to view the sunset is from Ocean Boulevard. This mile-long, mansion-lined stretch from the Hotel Del Coronado to Dog Beach and aptly-named Sunset Park draws visitors and residents on a nightly basis. Some promenade, some perch on a rock, others stand in quiet reverence as the sky puts on a show. Gradually the palm trees become silhouettes and you are lulled by the gentle swish and drag of the surf.
Photo credit: Jeremy Noyes Photography
---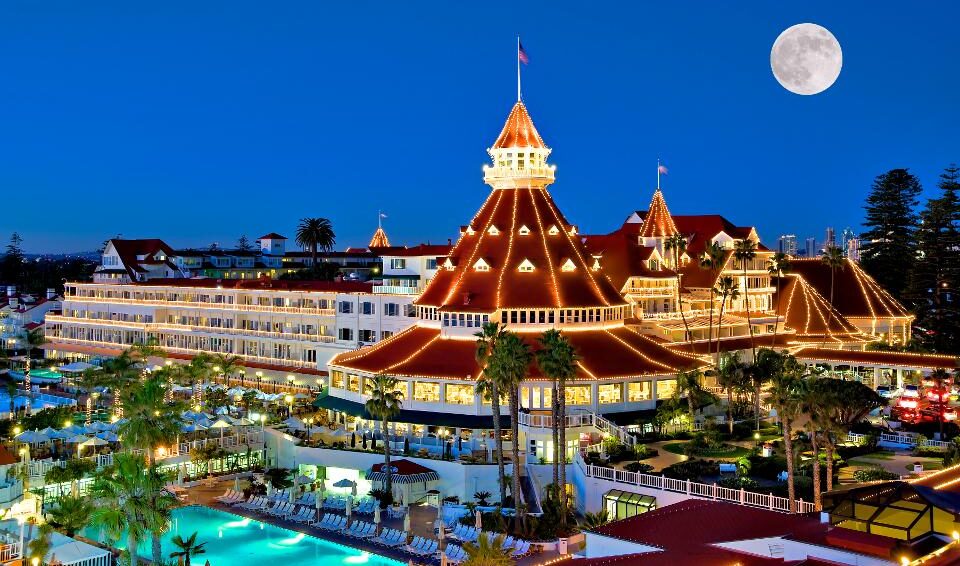 If you like sustenance with your sunset, continue along the boardwalk to the iconic Hotel Del, offering the option of barefoot-in-the-sand beverages from the Beach & Taco Shack or state of the art seafood at Serea Coastal Cuisine. You can even enjoy room service on your ocean-facing balcony if you happen to be lucky enough to be a hotel guest!
---
This high-end steakhouse raises you one level above Orange Avenue and offers a sleek contemporary terrace lined with flickering flames. Here you can enjoy Happy Hour oysters for $3 from 4-6:30pm and toast Mother Nature with a glass of Veuve Cliquot for $22. Dinner specialties include 50-day dry aged vintage beef and American Wagyu!
---
Cruise a scenic five miles down Silver Strand to the Loews Coronado Bay Resort to see Coronado skies from a new perspective. The Cays Lounge bar opens out onto a spacious terrace giving you the feeling of being on your own floating island. The Flavor menu include beers from local breweries, spirits from local distilleries and tasty tapas items. Especially atmospheric when live music is playing.
---
To revel in a fully panoramic sunset, book a gondola ride, complete with a gondolier in traditional Venetian costume. The 50-minute trip takes you on a gentle cruise around the canals of the Coronado Cays and, to further enhance this elegant experience, you can add wine and chocolate truffles…
---
From the cays to the bay… Il Fornaio offers a spectacular vantage point of the San Diego skyline with exceptional Italian cuisine. Picture-windows run the length of the restaurant, but you can also dine al fresco on two terraces. The first overlooks a little scallop of sand and the second juts further forward, great for viewing assorted sailing vessels bobbing and powering along the bay! A real treat all round.