November 2 is the annual Dia de los Muertos – or Day of the Dead – when ancestors and departed loved ones are honored with feasting and colorful rituals, with marigolds representing sun and light!
Coronado Island is just 15 miles from Mexico and its Mexican restaurants offer a vibrant, flavorful experience, whatever the occasion.
*You can also enjoy tequila tasting and shop for tortilla coasters and Dia de los Muertos greeting cards!
MOST STYLISH
With stunning decor featuring exposed beams, wrought iron chandeliers and Mexican Loteria images, Serrano's serves sophisticated Dia de los Muertos vibes with an exceptional menu of authentic fare with flair.
MAIN: Mole Poblano – traditional Mexican sauce made from pasilla, ancho & mulato chiles, tomato, clove, garlic, chocolate, cinnamon, coriander seeds and more! Served over chicken breast with rice and corn tortillas.
DESSERT: Churros with vanilla ice cream.
DRINK: Try Serrano's signature Margarita Flight with Classic Lime, Tamarindo, Pomegranate and Mango flavors.
---
MOST SPEEDY
This colorful, buzzy, busy take-out nook has benches outside where you will see hungry diners trying in vain to eat a taco or burrito without spilling a chunk or two of the tasty filling.
MAIN: MTO Nachos Especiales with housemade jalapeño cheese sauce or Chicken Chipotle Burrito.
DESSERT: Special Dia de los Muertos decorated sugar cookies at Clayton's Bakery (just a few minutes walk down Orange Ave).
DRINK: Housemade Horchata (made with rice, milk, vanilla and cinnamon). (Also serving Jarrito's fruit-flavored sodas from Mexico.)
---
MOST POPULAR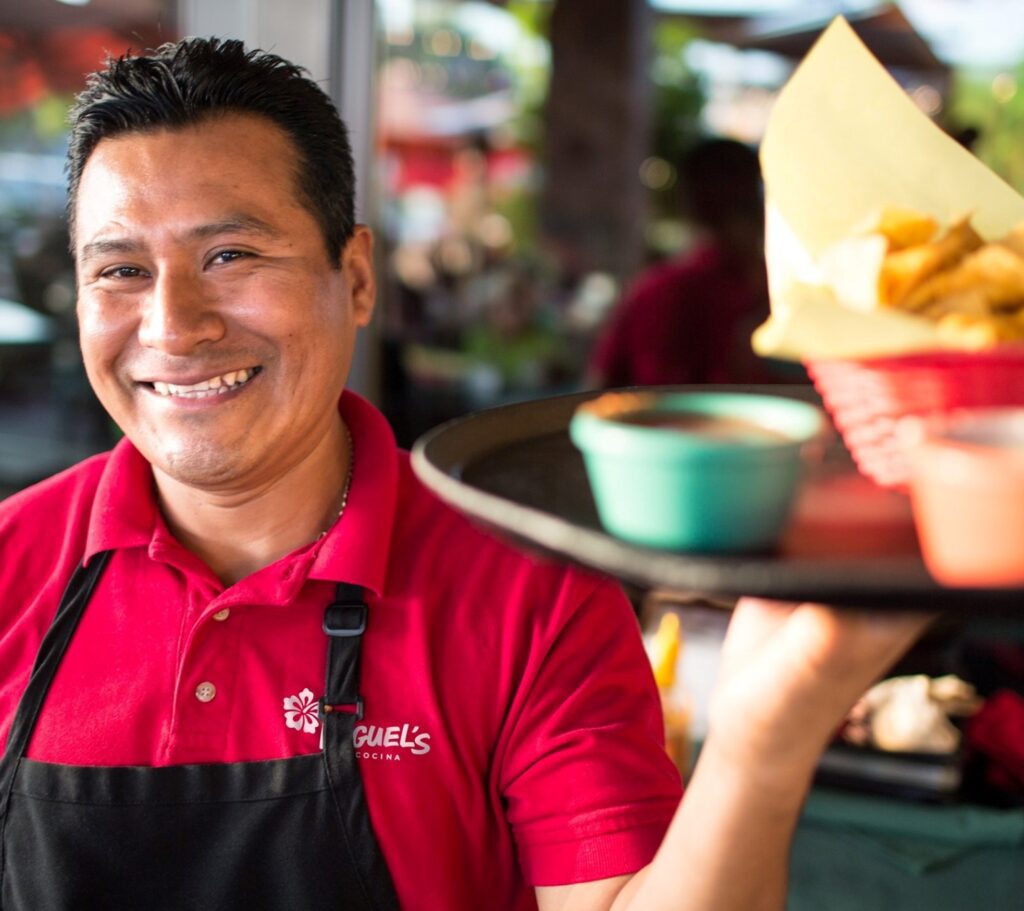 Manager Heber makes his recommendations for Dia de los Muertos:
MAIN: It's always fun to try our Taco of the Month – for Fall we have Turkey with mole, cranberry and garlic. I'd also recommend any of our delicious pork dishes – the fajitas come with the meat citrus-achiote marinated and roasted.
DESSERT: We typically have a special Pumpkin Flan this time of year, alongside traditional offerings like Cinnamon Churros and Chocolate Empanadas. But our Mud Pie is the most popular dessert with its deep layer of mocha ice cream finished with rich fudge, whipped cream & chopped nuts!
DRINK: Blackberry Ginger Smash or our Spicy Pineapple Margarita.
---
MOST SCENIC
Costa Azul has has giant picture windows and a multi-level deck overlooking the Bay and the San Diego skyline. Check their FB page for dates with their regular music guests Ron's Garage Band and Jinnah Williams.
MAIN: Highlights include the Swordfish Tacos and Carnitas Ole, which features seasoned pork, seared and braised in beer, citrus and spices, served with guacamole, salsa fresca and fresh tortillas.

DESSERT: Cool off from the chilis and jalapeños with an Ice Cream Sundae!

DRINK: Owner Carol Sarber's favorite margarita is the traditional Costa Rita, while the two most popular are the Patron Especial and the Spicy Mango-Rita, with its house-made green chili sauce, pineapple juice and house margarita mix – shaken with mango puree and served with a Tajin rim!
---
MOST HOURS
A local favorite with casual vintage charm, Night & Day diner is open from 7am-2am on Saturday nights!
MAIN: Chilaquiles (pictured) may be classed as a breakfast dish but it's yummy all day. Fresh tortilla chips are sauteed in a Red Guajillo Sauce or Green Tomatillo Sauce, topped with two eggs, onions, cheese, sour cream and cilantro. Served with beans and rice.
DESSERT: Delicious crispy churros for $6 or upgrade to the Sundae Churro, adding vanilla ice cream, whipped cream and caramel sauce for $10.50.
DRINK: Mexican beer all the way – Corona, Pacifico, Modelo or Dos Equis! The hot chocolate is special Ghiradelli topped with whipped cream.
---
MOST MUFFINS
Hot Chocolate is a Dia de los Muertos staple. Get yours with a signature giant muffin, including Pumpkin flavor. (You can also lunch on a dozen Mexican classics including Sopes, Tostadas and Molletas.)
*Pic is of hot chocolate added to your own mug – Fair Trade Decor have a beautiful Guatamalan stoneware mug with a hand-painted peacock or "pave real" design for $29.99.
---
TEQUILA TASTING
Coronado Tasting Room at Ferry Landing offers a Tequila Flight for $39 featuring Don Cayo's lip-smacking sipping tequila in Blanco, Reposada and Anejo. You can treat yourself or a friend to this Special Edition Gift Set which also includes Anejo Extra for $51.99 – 100% Agave, from Mexico.
---
DAY OF THE DEAD GIFTS
Shop for Feliz Dia de los Muertos cards and cute tortilla coasters at Coronado's exquisitely stylish stationary and gift store.