Coronado – Easy to get to, Easy to get around…
Travel Time
Coronado Island is less than 10 miles from both San Diego International Airport and Amtrak's Santa Fe Train Depot, with a drive time of under 20 minutes.
Los Angeles is two hours north (3-4 in heavy traffic), Legoland is 40 minutes drive and the US-Mexico border is 20 minutes south.
---
Coronado Bridge
Even the approach to Coronado is unique – Highway 75 takes you across the bay from San Diego with a magnificent two-mile-long bridge that feels like its own thrill ride. At its peak you will get a glorious overview of the island, all the way to the fairytale turrets of the Hotel Del Coronado on the ocean shore.
As you enter the island you will pass a vintage toll booth but there is no longer a fee so sail on through!
---
Coronado Island Ferry
Take a nostalgic ride across the bay from Coronado Ferry Landing to mainland San Diego. You can opt for the 5 minute ride to the Convention Center and the nearby Gaslamp District or the 15 minute trip to Broadway Pier for the USS Midway and Seaport Village. Many folks just stay on and enjoy the roundtrip!
Ferry tickets cost $7 each way, kids under 4 are free.
Flagship Ferry is accessible to wheelchairs. Bikes permitted but no dogs allowed.
---
Walking
Coronado Island is about 1 mile wide from bay to beach, extending a further 8 miles down the Silver Strand/Highway 75 to the Loews Coronado Bay Resort at the Coronado Cays.
You can walk from the Hotel Del Coronado (beach) to Ferry Landing (bay) in under an hour.
Sidewalks are well-maintained and there is an abundance of picturesque properties and blooming gardens to enjoy, as well as Orange Avenue's varied shopping and dining.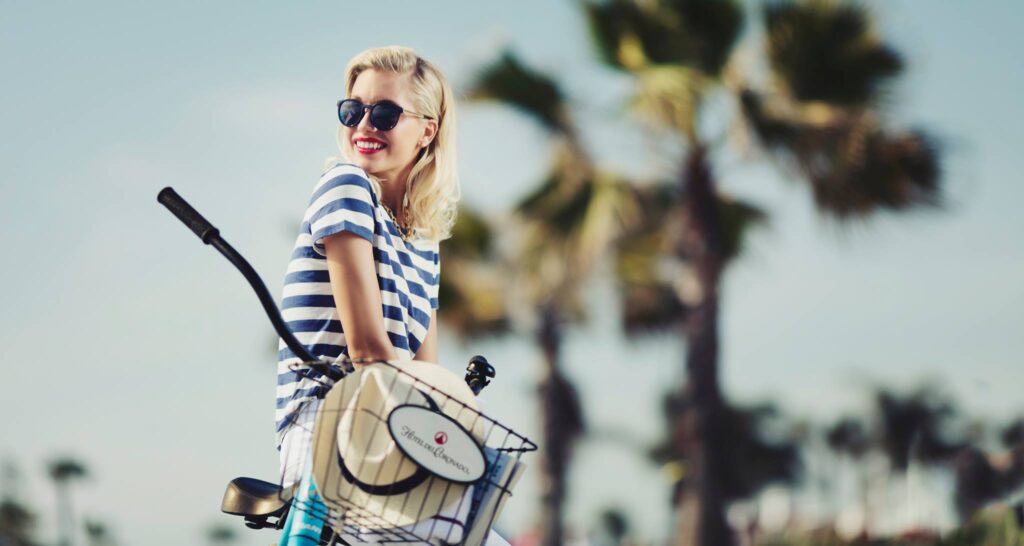 Biking
Bicycles are everywhere in Coronado, ridden by people of all ages — a true hallmark of island lifestyle.
Rentals of all types – cruisers, tandems, surreys and children's taga-longs – are available with free bicycle maps.
Children are required to wear helmets and cyclists are encouraged to avoid riding on the busy Orange Avenue.
Bike Paths
15 miles of dedicated bike paths meander through our historic neighborhoods and along the pristine coastline.
Favorite routes include cycling bayside, under the Coronado Bridge, alongside the Coronado Golf Course and down the Silver Strand, which is part of the California Scenic Highway, with the ocean on one side and coastal marsh on the other.
Nature Trail
On the eastern side of the Silver Strand, you can explore an interpretive trail, called Nature's Bridge, taking you through rare coastal sage-scrub habitat.
The trail features five discovery points which highlight the fragile ecology of the Strand. At the southernmost tip of Coronado you can enjoy the San Diego National Wildlife Refuge.
---
Car Free Coronado
Coronado is easily enjoyed without a car. In fact many residents live quite happily without one — quite unusual in Southern California!
Golf Carts
Golf carts are a wonderful option for traversing the island while embracing the sunshine and sea breezes.
(For many locals this is their main mode of transport and you'll see their dogs happily riding shotgun!)
You can rent by the hour (starting at $59), the day or longer with Coronado Golf Cars The carts are 100% Electric and come with a complimentary map.
---
A Laid-Back Speed
As you drive into Coronado, take the opportunity to slow down and enjoy the relaxed island pace. The speed limit is 25mph and you'll be sharing the road with lots of cyclists and even a golf cart or two.
You can expect a steady stream of traffic on Orange Avenue, especially during the summer months, but there is always something interesting or scenic to view as you cruise along.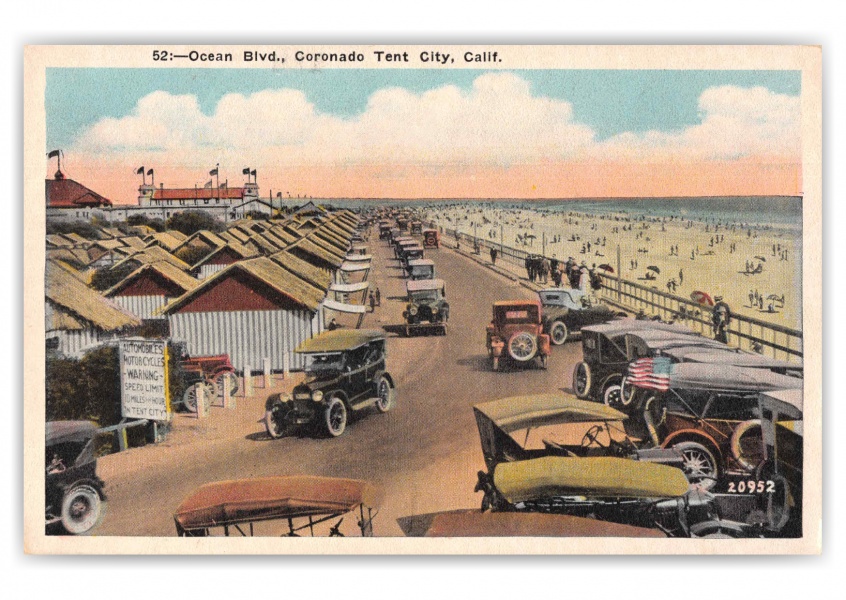 ---
Parking
Parking is free on Coronado. You can park for up 2 hours on Orange Avenue. Beach parking on Ocean Boulevard is free. RVs under 24 feet in length can park on any street for 72 hours, but cannot be used as a residence. Larger vehicles require a permit.
The most gorgeous array of parked cars takes place during the Motorcars on Main Street event each Spring.
---
Public Transportation
There are 2 bus options for Coronado: MTS Bus 901 travels off Island and into San Diego while MTS Bus 904 travels along Orange Ave to the Community Center, City Hall on Glorietta Bay and the Bayfront and Ferry Landing. One-way fare is $2.50, all day fare is $6.
Map out your transportation plan on the MTS travel planning page.
---
Taxis, Shuttles etc
Super Shuttle, Service from San Diego Airport and Amtrak Station. (800) 974-8885
Coronado Livery, Shuttle service to San Diego Airport and Amtrak Station. (619) 435-6310
Coronado Yellow Cab Company, 24-hour taxi service, 7 days a week. (619) 435-6211
For Lyft or Uber, download the application onto your smartphone.
---
Car Rental
---
Beach Wheelchairs
Coronado is a flat island with sidewalks that are suited to wheelchairs, with appropriate ramping. The public transit system and the Coronado-San Diego Ferry are wheelchair accessible.
The Coronado Beach Lifeguard Division offer power and manual beach wheelchairs at no cost. These beach wheelchairs are equipped with large, wide wheels which allow users to be rolled across the sand for a "Front Row Seat" at the shoreline's edge. Further information can be found HERE