Here's Your Guide to Spending a Dream Day on the Bay!
Save The Date
November 25, 2023 – Shop Small Saturday with Santa!
December 9 & 16, 2023 from 12-3pm. Festive fun with Santa and a live DJ! Spin the Wheel, win a prize and shop in the sunshine!
Arriving
The ideal way to reach Ferry Landing is, of course, via ferry! The iconic navy & white Flagship Ferry departs from the San Diego Convention Center and the Broadway Pier, delivering you directly to Coronado Ferry Landing in a matter of minutes for just $8! Children under 4 ride free.
---
Coffee & Pastries
Start your morning with a specialty espresso drink and irresistible pastry! The Coronado Coffee Company is a favorite with Coronado locals, cyclists and dog-walkers and offers a variety of bountiful açaí bowls! Le Parfait Paris brings authentic French pastries, tarts and macarons to the Bay, including the sublime Nutella Cruffin.
---
Activities
Feeling the need for speed? San Diego Jet Ski Rental will have you zipping around the Bay like Top Gun's finest! California Tom Cruise aka Jerome LeBlanc loved his aquatic adventure!
SUP and Saddle offer Kayaks and Stand Up Paddle Boards and dogs are welcome to join you on the water! For Surreys, Tandems and Hybrid Bikes, head for Holland's Bikes & Beyond and cruise the boardwalk to discover sandy havens with blue bridge views!
---
Lunch
Pick up fresh fruit and gourmet cheese at Coronado Farmer's Market every Tuesday from 2:30-6pm, perfect for a picnic on the grass!
Spiro's Mediterranean Cuisine, Lil Piggy's Bar-B-Q and Village Pizzeria Bayside offer scenic terrace dining and tasty, freshly-cooked fare ranging from gyros and kebabs to ribs and calzones!
---
Shopping
Miss Match (left) and Lisa's Boutique (right) have comfortable, colorful, coastal women's fashions, including jewelry, belts, bags and shoes.
SD Trading Co. and La Camisa are souvenir shops with an eye-catching range of Coronado Island t-shirts and hoodies, while Coronado Mercantile (right) offers fun gifts and apparel, including Pup Lid baseball hats for your dog and popular Thread bags in a multitude of designs!
Crystals & Minerals is an Aladdin's Cave of mosaic lamps, crystals, jewelry and geodes. Next door Vom Fass has artisanal oils, vinegars, spirits and liquors in every hue and flavor!
---
Afternoon Tea
Old Town Coffee & Tea Shop now serves Boba Tea – Buy One Get One Free as of Nov 18, 2023! You also get a free large coffee with every coffee bean purchase, including Nutty Doodle and Blueberry.
With year-round sunshine, ice cream is always a welcome treat. Cold Stone Creamery's current seasonal signature creations include Caramel Apple and Frosted Pumpkin Pie. Mmmm, indeed!
---
Happy Hour
Coronado Tasting Room (3-6pm) This light and airy venue has a fun array of Happy Hour deals: Monday $5 Craft Beer | Tuesday $5 off Tequila Flights | Wednesday $2 off Wine glasses and Flights | Thursday $5 off Spirit Flights | Friday 20% off all Food. Keep an eye out for live music events!
Other Coronado Ferry Landing Happy Hour highlights include:
COSTA AZUL MEXICAN RESTAURANT
(M-Thurs 3-6pm) DRINKS: $4 Domestic Beer, $5 House Wine, $8.50 signature cocktails FOOD: $4.50 Swordfish Taco, $8.95 Nachos Azul
IL FORNAIO ITALIAN RESTAURANT
(M-F 3-6pm) DRINKS: $6 Italian Birra, $7 Vini Italian, $8 Amalfi Smash & Tuscan Lemonade cocktails FOOD: $12 Pizza, $13 Calamarretti Fritti
PEOHE'S PACIFIC RESTAURANT
(M-F 3-5:30pm) DRINKS: $4 Domestic Beer, $6 Wine, $7 Mango Mojito & Pomegranate Martini FOOD: $7 Coconut Crunchy Shrimp, $11 Prime Rib Sliders
(For the full list please check out CORONADO'S 21 HAPPY HOURS)
---
Dinner
From sticky barbecue fingers to swish special occasion dining, Coronado Ferry Landing has it all! Make sure to book a table at Peohe's, Il Fornaio or Costa Azul to guarantee prime seating!
Costa Azul often has live music – click for the latest times and dates.
Aside from yummy fare, each Coronado Ferry Landing restaurant offers stunning views of the San Diego skyline, dreamy at sunset and after dark, when the lights reflect in the waters.
---
Stay Overnight
After a long day of leisure, what could be nicer than strolling along the boardwalk to your beautiful bed? The Coronado Marriott Resort & Spa has a sun-kissed pool, special PAW Package for your pup, resident pink flamingoes and a highly Instagrammable wall mural! You'll definitely have sweet dreams here, and awaken to enjoy a second day of Ferry Landing attractions!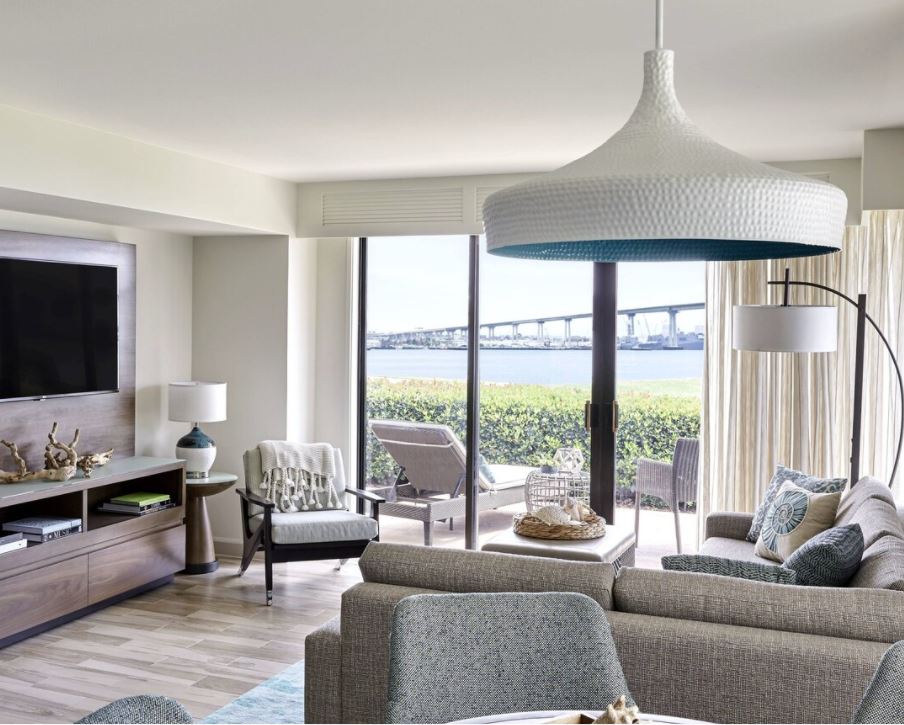 ---
For even more info, please visit the CORONADO FERRY LANDING WEBSITE
---