A visit to Coronado Island is like stepping back in time. Here we look at all the ways you can have a truly vintage experience!
Vintage Events
Seaside Victorian Carnival on October 15, 2023 from 11am-3pm.
Celebrating 135 years of the Hotel del Coronado, this nostalgic carnival will be brimming with free entertainment including vintage strolling performers, aerialists, tight-rope walkers, bubble artistry and sandcastle exhibits – an Instagrammer's dream!
You can also enjoy vintage carnival games – including milk can toss, ring toss, penny pitch, skittle strike, and Plinko – with all game fees benefiting local charities including Coronado Historical Association.
Classic treats like caramel apples, chocolate kettle corn, corn dogs and giant pretzels can be purchased on the boardwalk, while a custom 12-foot-tall turret bar will be serving refreshing signature cocktails on the beachfront lawn.
The 8th Annual Coronado Island Film Festival runs November 8-12, 2023. As well as showcasing contemporary movies, the CIFF offers special vintage-lover attractions like Leonard Maltin's Olivia de Havilland presentation, detailing her unique connections to Coronado, and Designing Hollywood: Studio Wardrobe in the Golden Age. Author Christian Esquevin will be celebrating costume designs from late 1910 to the 1960s, including William Travilla's iconic dresses for Gentlemen Prefer Blondes and Oscar-winning Walter Plunkett's stunning work on An American in Paris.
MotorCars On Main Street draws 15,000 spectators to gaze at around 400 gorgeous, gleaming pre-1973 classic cars, hot rods and trucks. The vehicles are displayed in downtown Coronado with retro-themed music adding to the fun atmosphere. Mark your calendar for the 33rd edition on April 28, 2024.
---
Vintage Showtime
Village Theatre – this art deco gem plays host to the Coronado Island Film Festival, as well as a Classic Film Series series throughout the year, with Jimmy Stewart's The Shop Around The Corner coming up on December 20. You can also enjoy new releases like A Haunting In Venice, set in 1947, coincidentally the year the Village Theatre opened its doors! View black and white images of the March 18 grand opening here: The Early Years
Lamb's Players Theatre is currently hosting the world premier of JANE: A Ghost Story – a musical adaptation of Charlotte Bronte's masterpiece Jane Eyre. Set in the 1920's, the show is filled with wit, romance and mystery. Prices start at $28. Matinees Wed & Sat. Runs until November 12. (The theatre itself is vintage, having originally opened as a cinema in the historic Spreckles Building in 1917.)
---
Vintage Parades
The Coronado Holiday Parade & Tree Lighting Ceremony is a twinkling, feelgood event for all the family. Enjoy the festive parade along Orange Ave then get super-charged with holiday spirit as the 120ft tree illuminates – it is wrapped in over 2 miles of colored lights – longer than the Coronado Bridge if they were extended in a single line! Save the dazzling date: December 1, 2023.
The 2024 Coronado July Fourth Parade will be a special one, celebrating 75 years of classic small-town Americana. Favorite entries include the patriotic horses, marching bands and Coronado's vintage fire truck. Stay for the dazzling evening firework display over Glorietta Bay.
---
Vintage Tours
Coronado Historical Association offers a fascinating, 60-minute walking tour including a peek at the former home of author L. Frank Baum, who wrote the sequels to the Wizard of Oz while resident on the island.
So Cal Food Tours has a 3-hour Culinary & History Tour beginning at the Tent City Murals, featuring evocative "seaside postcard" images spanning 1900 to 1938. Refreshment stops include Nado Republic and Wine A Bit, which definitely has a vintage or two to enjoy!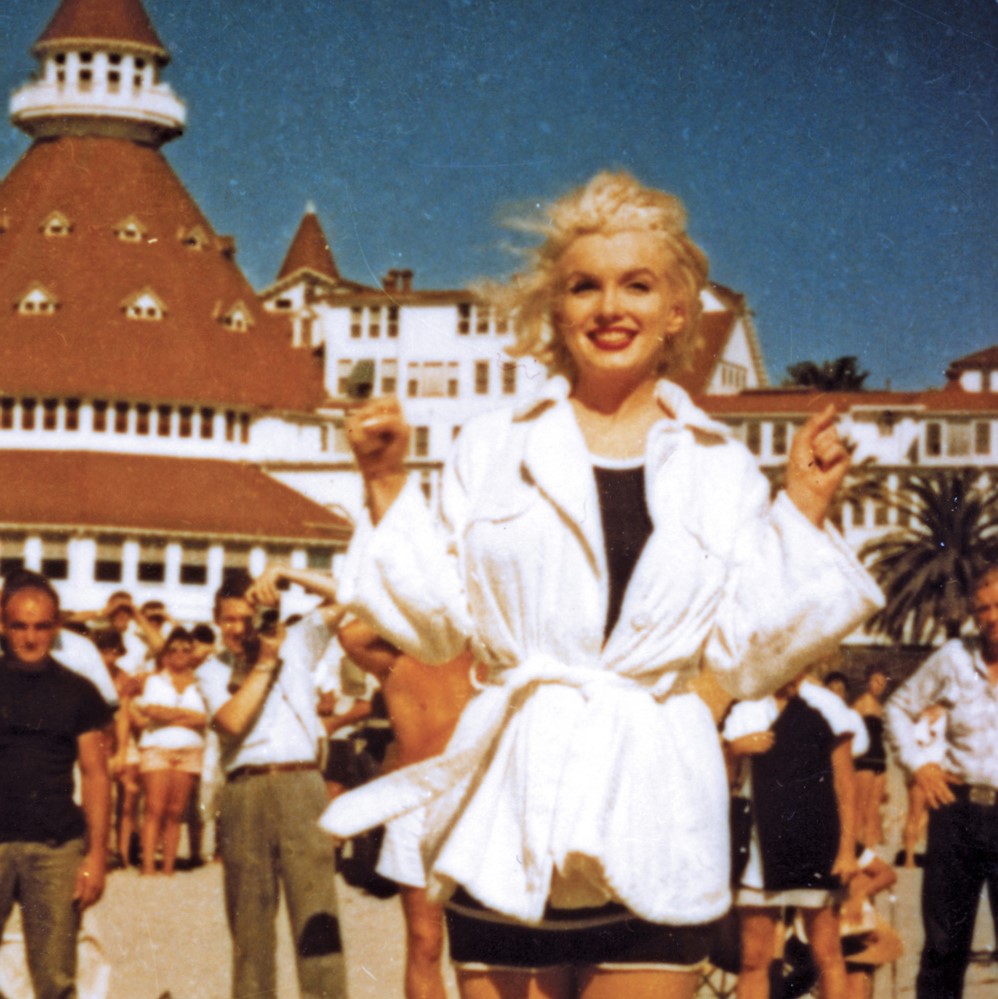 Hotel de Coronado's Legendary Tour brings to life the iconic resort's rich heritage through an in-depth, docent-led walking tour of the Victorian building and gardens, including access to exclusive behind-the-scenes areas.
Coronado Beach Cruiser Tour Rated #1 San Diego Bike Tour on TripAdvisor! The handcrafted beach cruisers are inspired by the classic woody wagons of California's surf culture and feature real mahogany, white oak wood and premium leathers. They also have built-in speakers that play lively retro beach tunes as you explore areas of historical significance.
---
Vintage Museums
Entry to the Coronado Museum is always free, and always fascinating. The current exhibit – Open Collections Workshop – takes you behind-the-scenes to view the conservation process of unique CHA artifacts.
Explore the 1889 Ice House Museum and discover behind-the-scenes history of The Del, vintage memorabilia and a Marilyn Monroe selfie spot. Located in a row of historic buildings along the main drive.
---
Vintage Eateries
Night & Day Cafe began as the D & D Cafe in 1927, re-opening two doors down in 1954. You'll often find members of the military chowing down on burritos and the famous hubcap size pancakes, which makes you feel even more like you are on a film set! Check the Specials tab on the website to see when the next Bottomless Mimosas deal is on!
Garage Buona Forchetta maintains the vintage automobile theme of the El Cordova Garage (which began operating on this site in the 1940s) and even has a convertible car with a built-in table! Look out for the Roman Holiday movie poster featuring Audrey Hepburn and Gregory Peck on a Vespa while enjoying your authentic Italian pasta and vino!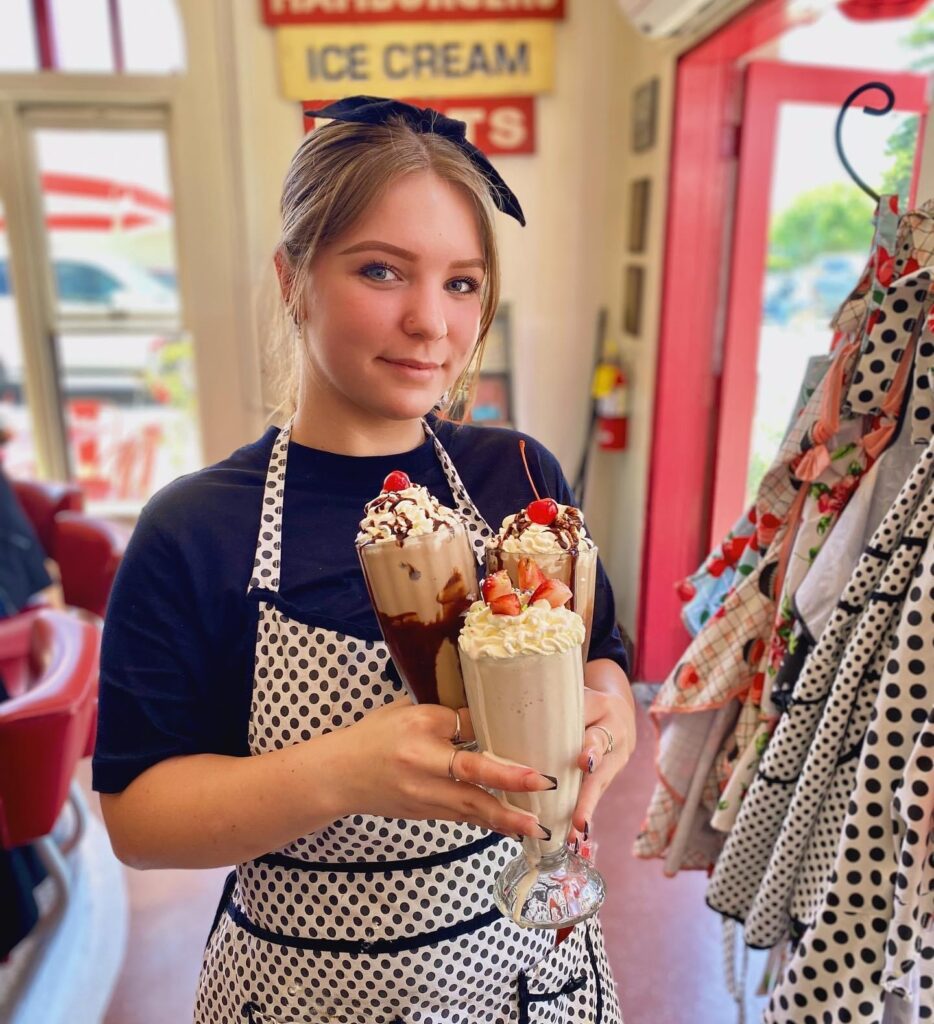 Clayton's Coffee Shop feels like stepping into a scene from Grease with jukeboxes in the red vinyl booths and the only original horseshoe counter remaining in San Diego County. The food is great and the milkshakes and homemade fruit pies deserve their rapturous reputation!
Mootime Creamery will grab your attention with its life-size Elvis statue striking a pose at the entrance, and then wow you with their $8 Soda Fountain floats.
Step even further back in time at the Babcock & Story Bar at the Hotel Del Coronado which has retained its original 1888 mahogany bar through generations of renovations!
Chez Loma serves award-winning French cuisine in the picturesque Carez Hizar House (circa 1889) repeatedly making local Most Romantic lists!
---
Vintage Shopping
Coronado Vintage and The Attic have an ever changing array of antiques, quirky keepsakes and coveted collectibles, including vintage vinyl at The Attic and jewelry and clothing at Coronado Vintage. Well worth a leisurely peruse!
---
Vintage Styling
Monroe at the Hotel Del's Shops is a peachy-pink indulgence, with vintage-style cocktail glasses, sweetly feminine perfume and glittering bling to accessorize both resort and red carpet outfits.
Salon on First owner Marilyn Klisser is one of Coronado's premier hair stylists and also happens to be a stunning Marilyn Monroe lookalike who can style your hair like a Hollywood starlet!
---
Vintage Accommodation
Two jewels in Coronado's crown, meet our storied grand dames: the former Spreckles mansion Glorietta Bay Inn (1908) and the iconic Hotel Del Coronado (1888), forever associated with the classic comedy Some Like It Hot.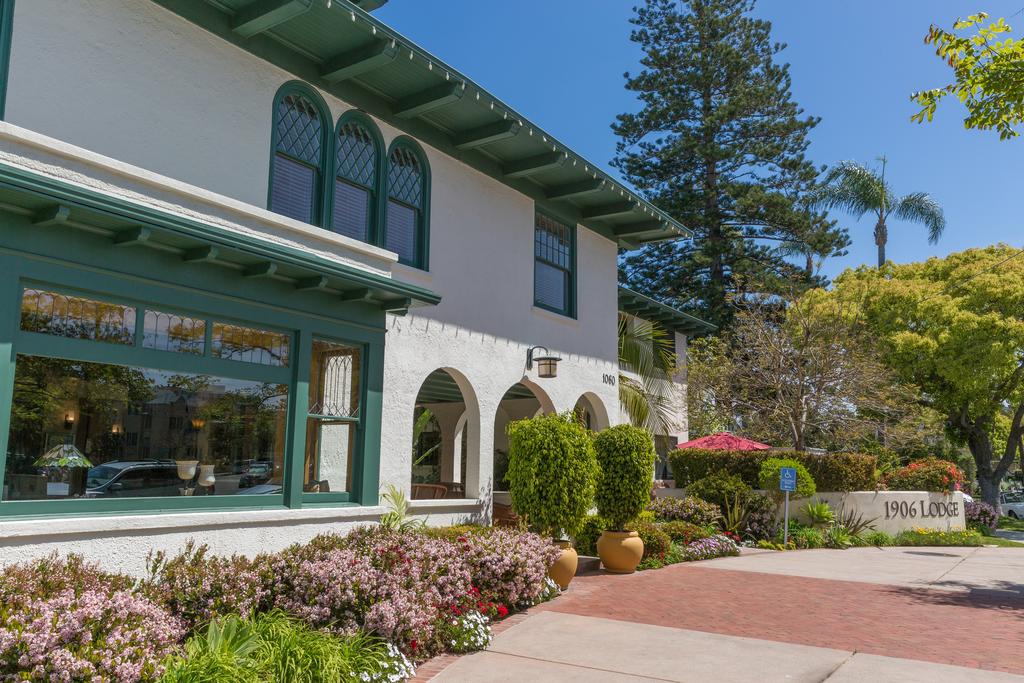 Historic Spanish village charm can be found at the El Cordova Hotel (1930) while the 1906 Lodge offers
El Rancho Motel opened in 1952 and offers 10 cute, retro, budget rooms with pink flamingo accents in the courtyard. The Hotel Marisol (which first opened its doors in 1927 as the Blue Lantern Inn) is the definition of a chic boutique and offers a stylish breakfast buffet.
There you have it – everything a vintage-lover needs to have a dream time on Coronado Island!